Picking Out Your Puppy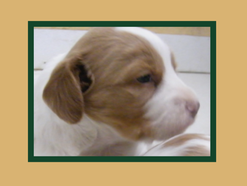 Once the puppies have been checked by the veterinarian and properly socialized with their littermates for 8 weeks, we set up appointments for you to pick out your puppy. Many people, including trainers, writers, and your friends, have different ideas about picking out a puppy. One popular idea is that you need to pick up your dog on day 49 in order to bond properly with the dog. We have found, over the last two decades and 100s of puppy experiences (in our home and the homes of clients), that the longer a young puppy can stay with its littermates (within reason) the better the dog is socialized with other animals and people outside of the owners.

---
Puppies that are taken from their littermates before eight weeks often have not learned how to be submissive or cautious. Puppies require this time with their littermates to learn the skills of getting along with strangers, both human and animals. We, at Kirby Mountain Kennels, do not make puppies available for viewing or release from our facility before 8 weeks of age. As long as the pups have sufficient human contact, they adjust better in weeks 6, 7, and 8 living with littermates and without the mom. At Kirby Mountain Sporting Dogs, we care for and train dogs 24 hours a day 7 days a week. We constantly handle our puppies; we clean pens, feed, water, and play with the dogs throughout the day. With this type of care, our puppies are predictably social and eager to play with both humans and animals.

Some people think that they need to see the entire litter of pups in order to pick out a good dog. We have found this is a misconception. In any one litter, the majority of the puppies are comparable. In each litter there is usually a highly energetic dog, a more reserved dog, and the rest fall in between. The term pick of the litter is simply a matter of opinion. If the parents of the litter are proven dogs and the puppies are guaranteed, you could close your eyes and pick out a puppy with the only difference being its physical appearance. Each dog has its own personality; however, what you do with your puppy will make much of the difference for the life of the dog. We have kept puppies that were the last in the litter who have proven to be outstanding dogs in both temperament and performance.

Remember that when you are picking out your puppy, you are seeing the litter of puppies for a very isolated time period. Some people are drawn to the first puppy that shows an interest in them, some are attracted by the physical appearance of a certain pup, and other people try a battery of "puppy tests" in order to determine the right dog for them. During this isolated time period, the puppies may be reserved, demonstrative, active, or quiet. What you should remember at this time is to ask us questions about the puppies for we have been watching and handling the litter since birth. We do have a more comprehensive and accurate picture of each puppy's typical behavior. If you ask for our opinion or help, we will make recommendations and try to help you find the puppy that is best suited for you.

All of our puppies and dogs are top quality, or we would not guarantee them or sell them. Some people will use terms such as left over, runt, or pet quality dogs. If a puppy does not meet the health standards of our veterinarians, or criteria for an exceptional companion or sporting dog, we do not make them available in the litter. We will always be up front with you and make you aware of each puppy's strengths and weaknesses.

The term left over implies that there is something wrong with the dog or no one else wants it; but logically, because of numbers, there will always be a first pup in the litter to go and a last pup in the litter to go. Whether a puppy is the first in the litter to go or the last one in a litter to leave our facility, we will make our clients aware of any strengths or weaknesses of a particular puppy.

The term runt refers to a sickly and undersized puppy. Within two years the littermates, given proper care, are within pounds of each other. Without interference and intervention from outsiders, a runt, if there is one, will typically die in the first few weeks. The mom will often put a puppy to the side if it is sickly or significantly weak. Between the physical soundness of the parents and the prenatal care of the dog, we have found that our dogs do not often produce what people would consider a runt. Once again, based on logic alone, there is always going to be the largest pup in a litter and the smallest, yet this too changes as the puppies grow into adults. The smallest or largest of a litter does not always remain so for the rest of its life.

The term pet quality is one that is sometimes brought up in conversations. This is a term used by professional breeders and competition people and refers to second rate puppies that are produced. It typically means that there is something wrong with the dog structurally or behaviorally. The term does not mean a dog will make a superior pet, quite the contrary. Even though you may not want a hunting companion, you will want an intelligent and biddable (obedient, docile) companion. Our dogs come from field and hunting lines because these lines are extremely intelligent and biddable. All of our sporting dogs make wonderful pets and companions. Everyone wants a trustworthy and controllable dog. Hunters in the field with guns need controllable and trustworthy dogs the same as a family with children and other pets needs controllable and trustworthy dogs. Pet quality and having the qualities of being a good pet are not the same thing.

Remember, Kirby Mountain Kennels has researched each breeding in order to provide you with the best quality puppy in each litter we have!